Events & Workshops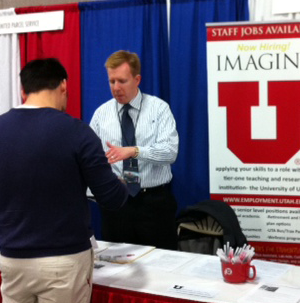 Attend free job fairs and employment events to learn more about career opportunities at the University of Utah. Meet face-to-face with hiring managers. Put your education and experience to work for you.
Employment Fairs
Tuesday, February 6, 2018
Spring 2018 Student Job Fair
Student Union Ballroom
10:00 am - 2:00 pm
Thursday, February 8, 2018
Spring 2018 All Campus Career Fair
Student Union Ballroom
9:00 am - 3:00 pm
For further information on Job Fairs or Workshops contact Greg Hughes at 801-581-6033
Workshops
There are currently no Employment Workshops scheduled.